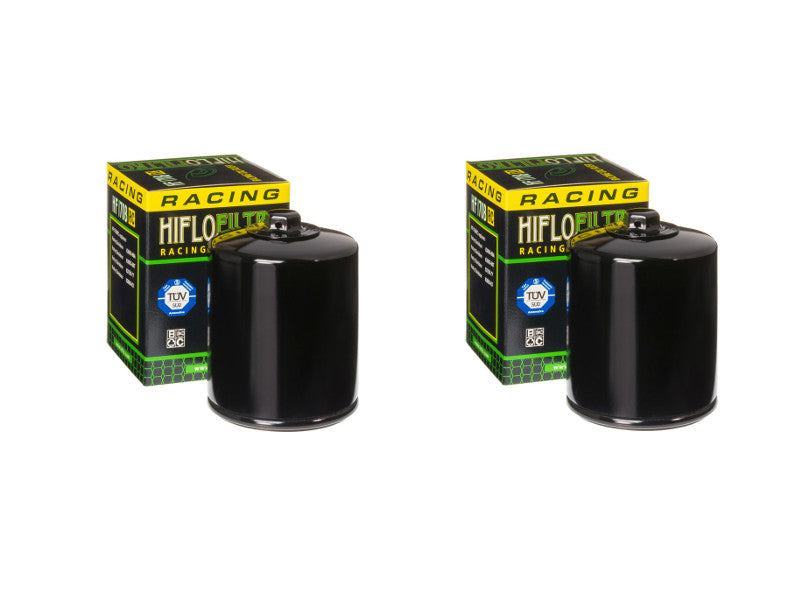 ---
Features:
17mm cross drilled nut enabling easy installation, removal, and lock wiring for race use
Advanced high performance tri-fiber filtration media for optimum filtration, high capacity, and improved oil flow. Capable of capturing particles as small as 5 microns
Tough heavy duty steel canister capable of withstanding extreme pressure
Special fibre or rubber coated relief valve for perfect sealing
Compatible with all oil types, mineral and synthetic
TUV approved
Hiflofiltro is the world's first and only TUV approved motorcycle oil filter. Constructed using the best materials available, all Hiflofiltro oil filters meet or exceed original equipment performance levels. Available for street, scooter, motocross, enduro, ATV, UTV, marine outboard, and snowmobile models.
Developed and manufactured to very high specifications to exceed the demands of modern racing engines and extreme racing conditions, the Hiflofiltro RC range provides numerous advantages for both road user and track racer.
Warranty Information
All products supplied are guaranteed to be free of defects in material and workmanship. We will repair or replace, free of charge, any pieces we recognise to be faulty. Said goods need to be returned to our warehouse for inspection. We make no other warranty of any kind, whether expressed or implied and do not take any responsibility for consequential damages involved in the use of the products, even if defective.
Delivery & Returns
A majority of items are held in stock and ready to go so if you order before 12 p.m you are likely to get your item within 1 working day.
Once you have placed your order you will receive an email confirming the details of your order. When your order has left our warehouse we will update you again with your tracking information.
We send a majority of our UK orders via Royal Mail or DPD. So you'll be able to go to the Royal Mail website or the DPD website, enter your tracking number and see the current progress of your package.
Please note that where we have made a mistake we are happy to pay return postage. However, the maximum we are able to refund is up to the original shipping cost.