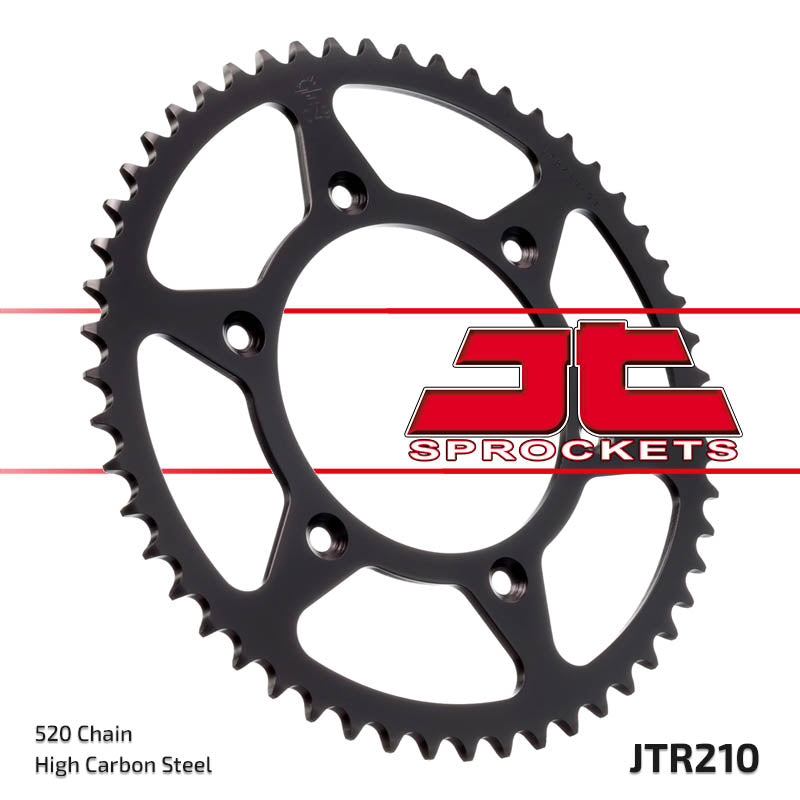 Features:
Fully heat treated for higher wear resistance
Meet or exceed Japanese OEM standards
Optimum design for light weight and strength
Perfectly finished in zinc or black enamel coating
Made by JT Sprockets, world leading aftermarket sprocket manufacturer for over 30 years. JT Sprockets offer an unbeatable combination of quality, durability, and price. JT Drive sprockets are exclusively made from the finest Japanese ultra-durable high carbon C49 Steel or SCM415 Chromoly Steel Alloy.
Compatible Bikes:
| Manufacturer | Model | Year |
| --- | --- | --- |
| Betamotor | 125 RR 2T | 2018 |
| Betamotor | 350 RR | 2011-2018 |
| Betamotor | 400 RR | 2013-2016 |
| Honda | CR250 R-2 | 2002 |
| Honda | CR250 R-4 | 2004 |
| Honda | CR250 RT | 1996 |
| Honda | CR250 RV,RW,RX,RY,R-1 | 1997-2001 |
| Honda | CRF230 F-3,4,5,6,7,8,9,A,B,C,D,E,F,G,H,J | 2003-2018 |
| Honda | CRF450 R-2,R-3 | 2002-2003 |
Warranty Information
All products supplied are guaranteed to be free of defects in material and workmanship. We will repair or replace, free of charge, any pieces we recognise to be faulty. Said goods need to be returned to our warehouse for inspection. We make no other warranty of any kind, whether expressed or implied and do not take any responsibility for consequential damages involved in the use of the products, even if defective.
Delivery & Returns
A majority of items are held in stock and ready to go so if you order before 12 p.m you are likely to get your item within 1 working day.
Once you have placed your order you will receive an email confirming the details of your order. When your order has left our warehouse we will update you again with your tracking information.
We send a majority of our UK orders via Royal Mail or DPD. So you'll be able to go to the Royal Mail website or the DPD website, enter your tracking number and see the current progress of your package.
Please note that where we have made a mistake we are happy to pay return postage. However, the maximum we are able to refund is up to the original shipping cost.