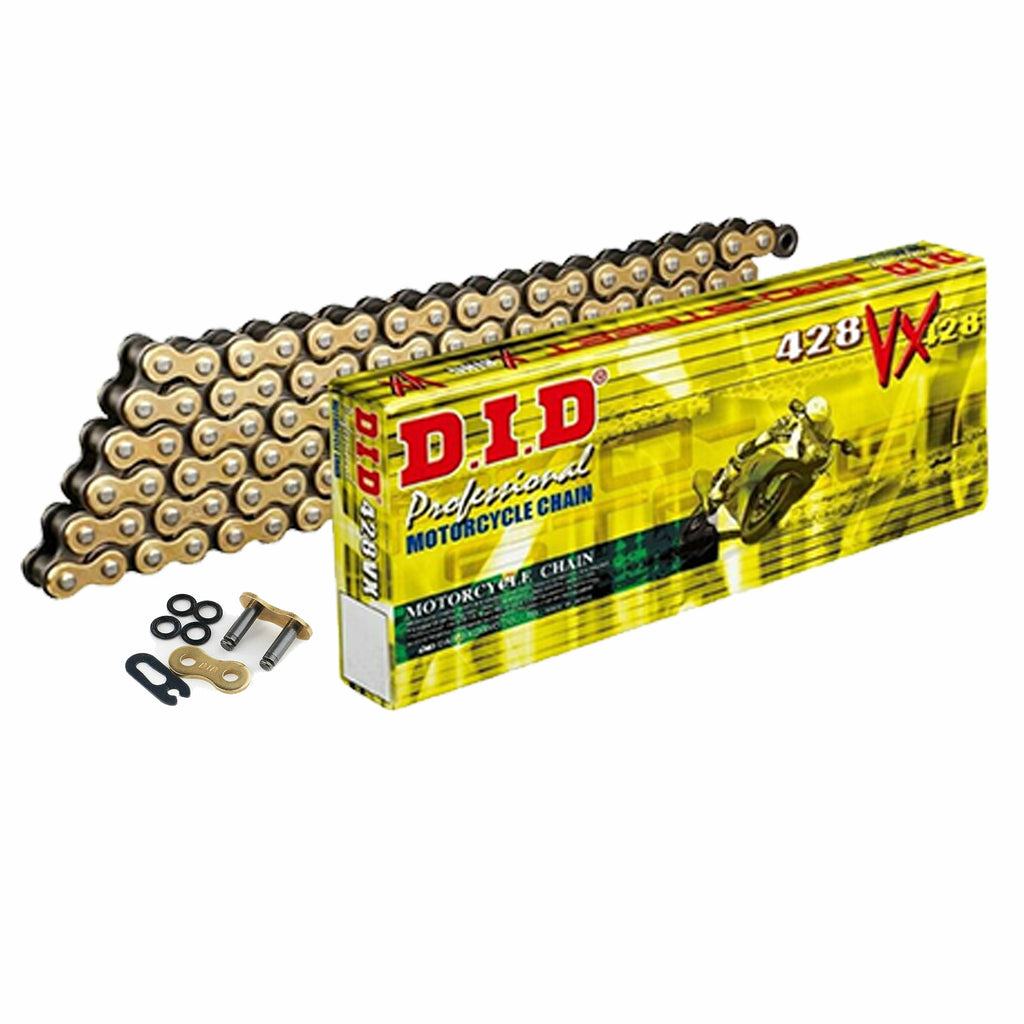 ---
Features:
Gold &Â Steel finish
X-Ring contact points greatly increasing sealing performance, keeps dirt out and maintains lubrication.
Pre-lubricated at factory, ensuring low friction and maximum durability
Proven high tensile strength, above Japanese OEM standards.
D.I.D X-Ring has the greatest wear resistance of any other type of O-Ring or non O-Ring chain.
D.I.D's X-Ring chain is designed for high performance motorcycles and Quads. Their patented X-Ring construction creates a chain that is both low in friction and high in wear resistance.
Split link provides easy and quick fitment.
In developing this new series, D.I.D focused on improving chain rigidity. Traditionally chain tensile strength has been used to indicate the overall strength and lock dirt out. They are expected to last at least ten times longer than standard chains without significant wear elongation under satisfactory maintenance.
Compatible Bikes:
| Manufacturer | Model | Year |
| --- | --- | --- |
| Betamotor | 125 RR LC 4T Enduro | 2011-2017 |
| Derbi | 125 Senda Baja SM | 2006-2008 |
| Kreidler | 125 Enduro DD (QM125GY-2B(BSD)) 80 Kmh Version | 2008-2011 |
| Kreidler | 125 Street DD (QM125-2D) 80 Kmh Version | 2009-2010 |
| Kreidler | 125 Supermoto DD (QM125GY-2B(ASD)) 80 Kmh Version | 2008-2012 |
| Yamaha | TZR125 R (4HX/W,JG) | 1993-1996 |
| Yamaha | TZR125 R (80 kmh) - Germany | 1997-1999 |
Warranty Information
All products supplied are guaranteed to be free of defects in material and workmanship. We will repair or replace, free of charge, any pieces we recognise to be faulty. Said goods need to be returned to our warehouse for inspection. We make no other warranty of any kind, whether expressed or implied and do not take any responsibility for consequential damages involved in the use of the products, even if defective.
Delivery & Returns
A majority of items are held in stock and ready to go so if you order before 12 p.m you are likely to get your item within 1 working day.
Once you have placed your order you will receive an email confirming the details of your order. When your order has left our warehouse we will update you again with your tracking information.
We send a majority of our UK orders via Royal Mail or DPD. So you'll be able to go to the Royal Mail website or the DPD website, enter your tracking number and see the current progress of your package.
Please note that where we have made a mistake we are happy to pay return postage. However, the maximum we are able to refund is up to the original shipping cost.