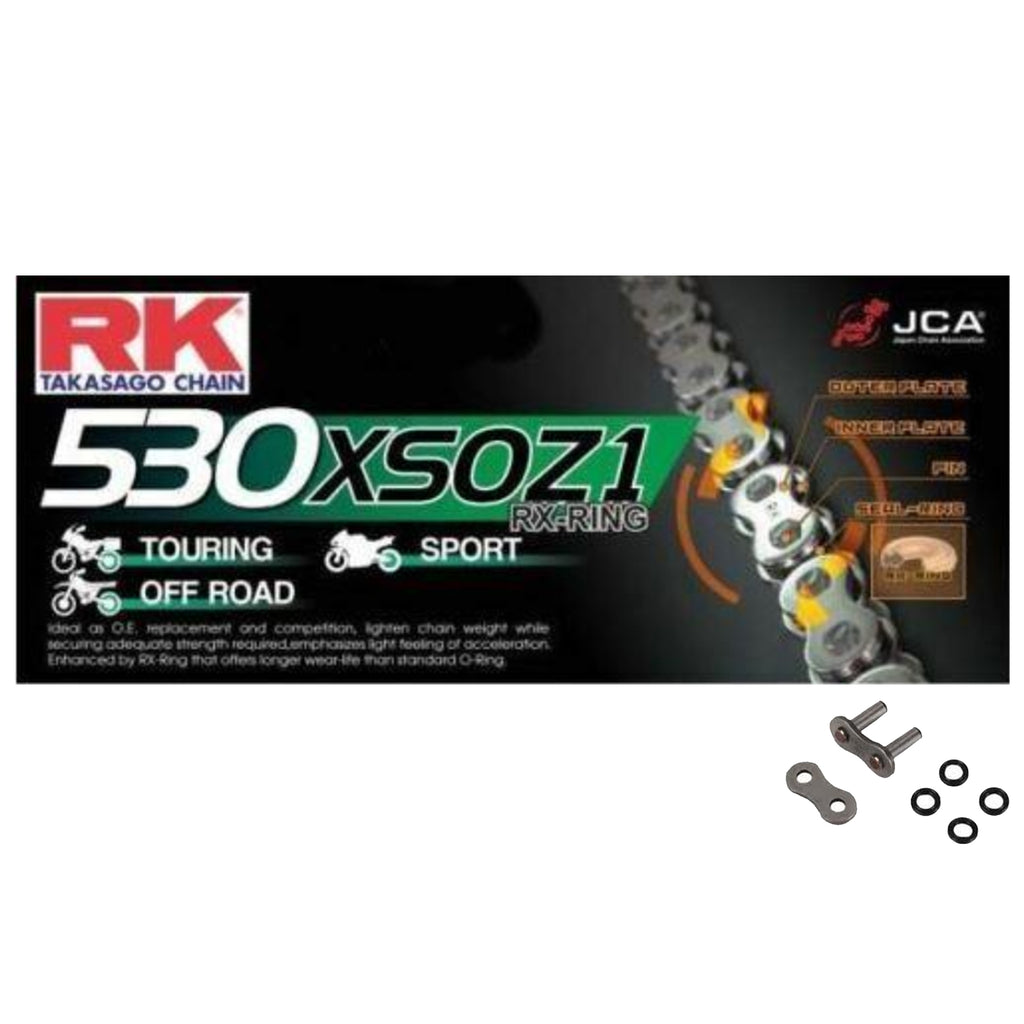 ---
Features:
OEM for all major Japanese manufacturers
RK's RX-Ring technolohy
Twice the wear life of a standard 530 chain
High tensile strength
Light weight
Low Maintenance
Less torsional friction
RK is the leading manufacturer of OEM motorcycle drive chain to all major Japanese manufactures. With over 40 years of supply to the largest manufactures including Honda, Suzuki, Yamaha, Kawasaki and Triumph, RK has years of experience which it utilises to ensure every chain it produces exceeds all expectations. RK also remains the first choice for many race teams from Moto GP, Motocross and Rally, it's superior quality gives their competitors the edge. Maximise your motorcycle's performance by fitting RK chain. Mark Marquez does and he does pretty well...
The 530 XSO features RK's standard X-Ring technology, the RX-Ring. The special shape of the X-Ring allows for 4 points of contact between the ring and chain with a lubricant reservoir in the middle. This allows the 530 XSO to have the twice the wear life of a standard 530 chain whilst requiring less maintenance. The 530 XSO is designed to combine rigid strength with a low weight providing the feeling of light acceleration without compromising on wear resistance. Affordable, long lasting performance RX sealed chain. The XSO series offers less torsional friction and increased performance.
Compatible Bikes:
Warranty Information
All products supplied are guaranteed to be free of defects in material and workmanship. We will repair or replace, free of charge, any pieces we recognise to be faulty. Said goods need to be returned to our warehouse for inspection. We make no other warranty of any kind, whether expressed or implied and do not take any responsibility for consequential damages involved in the use of the products, even if defective.
Delivery & Returns
A majority of items are held in stock and ready to go so if you order before 12 p.m you are likely to get your item within 1 working day.
Once you have placed your order you will receive an email confirming the details of your order. When your order has left our warehouse we will update you again with your tracking information.
We send a majority of our UK orders via Royal Mail or DPD. So you'll be able to go to the Royal Mail website or the DPD website, enter your tracking number and see the current progress of your package.
Please note that where we have made a mistake we are happy to pay return postage. However, the maximum we are able to refund is up to the original shipping cost.